I have stepped my foot back into business with Avon. Learning how to navigate the waters or social media and online marketing again. It's changed so much in the last 5 years. But I'm glad to be back in it and learning about all the great new resources out there. Below is a list of things that have gotten my attention.
http://fiverr.com/
- This is a neat little sight where people are willing to do lots of creative things to advertise your business for $5.00. It's legit. I've used it.
A couple different blogs have caught my eye too. These moms seem to be doing great at navigating the waters of social media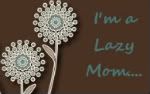 There are lots of opportunities for stay-at-home moms to utilize their gifts and passions to produce an income.
I'm taking my time and trying to learn from others.